One of my favorite things to can is Apple Pie filling.  It is so nice to have a quick and easy dessert on hand.  Each fall I try to stock up on plenty of apple pie filling that I use for pies and cobblers throughout the year.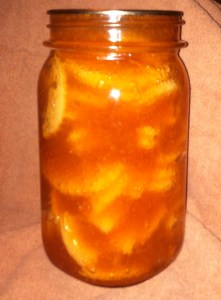 This is the recipe I use:
6 quarts sliced apples (approximately)
5 1/2 cups sugar
1 1/2 cup Clear Jel®
1 T Cinnamon
10 cups cold water
3/4 cup bottled lemon juice
I mix the sugar, Clear Jel® and cinnamon in large stock pot with a whisk.  Then I add cold water.  Stir well.  Cook on medium high heat until begins to thicken. (continue stirring well!)
You will see the color of the Clear Jel® change as it gets hot and thick.
Stir in the lemon juice and boil one more minute.  Then I gently turn the apple slices into the mix and stir.  Once it returns to boiling I remove it from the heat and immediately start filling prepared jars with the thick, sticky, wonderfully sweet apple pie filling.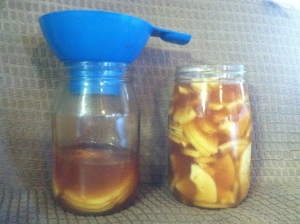 Since I prefer to pressure can rather than hot water bath, that is the method I use.*  However I have included the processing times for both methods.
Pressure Canning
Size
Time
0-2,000 ft
2,001-4,000 ft
4,001-6,000 ft
6,001-8,000 ft
Quarts
10 minutes
6 psi
7 psi
8 psi
9 psi
Water Bath Canner
Size
0-1,000      ft
1,001-3,000 ft
3,001-6,000 ft
Above 6,001 ft
Quarts
25 minutes
30 minutes
35 minutes
40 minutes
*Before canning please read the recommendations for your pressure canner!
I love how canning adds to my "convenience" foods.  The extra time and work up front enables this busy, farm mom the opportunity to put together a meal quickly. Do you have favorite canning recipes that you use for your convenience foods? I would love to hear what they are!
Blessings,
Jennifer
Linked to: