We have really been blessed with the opportunity to try out several different online math curriculums during our first year on the Schoolhouse Review Crew.  The latest program that we have tried out is from UnLock Math.  For this review, I received a one year subscription to their UnLock Pre-Algebra for one student. 
UnLock Math Pre-Algebra is an interactive, online math course taught by Alesia Blackwood.  It is immediately apparent that she is passionate about teaching math to kids in a delightful, educational way.  Say goodbye to the days of boring math teachers. Mrs Blackwood presents the lessons in an engaging and interactive manner which makes the bite-size bits of math easy to learn.
How Does It Work?
Upon logging in Brock came first to the Dashboard.  It was here that he could see what lessons he had completed and which lesson he needed to work on.   The list of Units are listed with a picture of a rocket beside it to Launch into Math Mode.  Beside the list of Units, there is a gauge to let the student know how he/she is doing on the lessons so far.  When Brock would click on Launch Course Gradebook, he could get a report on how he has done on the different types of activities: Warm Up, Practice Problems, Stay Sharp, Quiz, Test, Midterm, Exam and Overall Grade.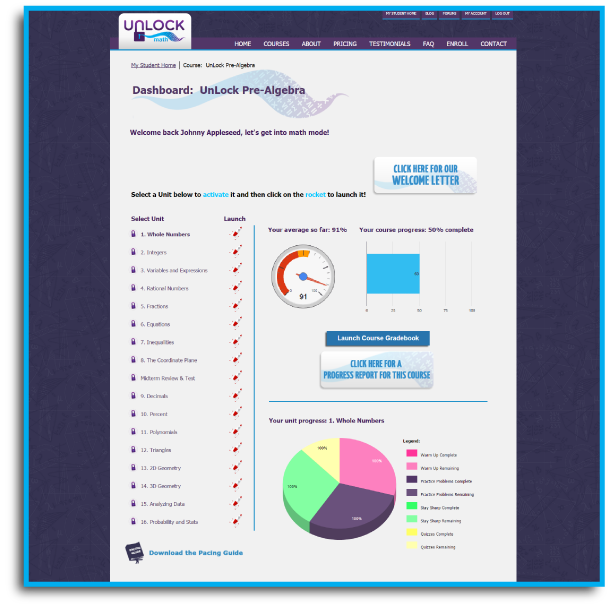 After selecting the Unit to Launch the page opens up to show the Daily Lessons.  Within the Daily Lessons there are videos of Mrs. Blackwood actually teaching the lesson.  These videos vary in length but most are 3-11 minutes long.  Definitely not too long for the student to listen. Next Brock would complete the Practice Problems, followed by Stay Sharp and Challenge Yourself.  There is also a section of Reference Notes that you can print off to refer back to later.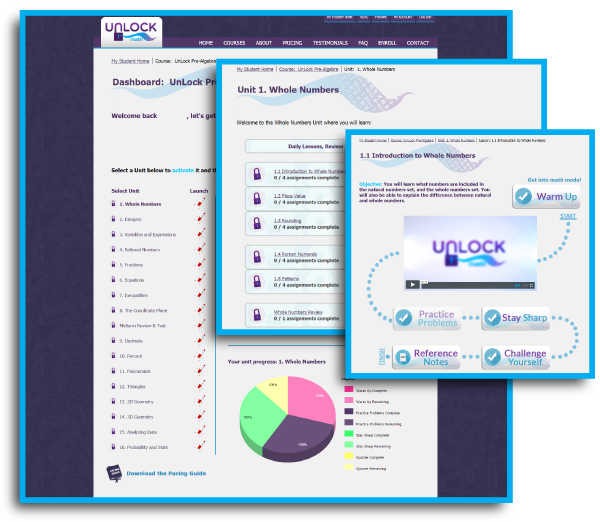 What Did We Think?
UnLock Math is an engaging, interactive math program that is easy to understand.  This program could easily be used as a stand alone homeschool curriculum or as an online tutor for your student who is struggling in math.
As a homeschool curriculum I would recommend the student complete the Units in the order they are presented.  If using as an online tutor you could select the Unit that the student is struggling with in school.
UnLock Math is priced at $49/month or $299 for one student with a 50% sibling discount available.  In addition to Pre-Algebra, UnLock Math also has Algebra available for the same price.
If you are looking for a high-quality, interactive math curriculum for Pre-Algebra or Algebra I would recommend using UnLock Math.
Connect with UnLock Math on Social Media:
Facebook
Twitter
Pinterest
Google+
Instagram
Click on the banner below to see what other members of the Crew have to say about UnLock Math.

Blessings,
Jennifer
*I would really appreciate it if you would take the time to sign up to receive an email for each post so you don't miss anything. You can find the "Subscribe to Blog via Email" button at the top of the blog and enter your email.  Thank you!