Happy Thursday Morning!
We finished lambing out the first group of ewes yesterday. We have a second group that is due to start lambing March 1, so we get a small break from the middle of the night checks. When the weather is cold a baby lamb can chill pretty fast, even in the barn, and since we want to make sure everyone gets off to a great, start we check them regularly. That means, we have to interupt our sleep to check on the mamas and the babies but it is totally worth it to see those healthy baby lambs (and goats too when they decide to start kidding 😉 )
It's time for this week's Encouraging Hearts & Home. I hope you will be encouraged by the posts that are linked up!
Welcome to Encouraging Hearts & Home!
The Encouraging Hearts & Home Bloggers
Join your Encouraging Hearts & Home Co-Hosts each week for encouragement and support for your heart & your home. We hope to provide a space that builds each other up and lends a helping hand along the way. With all the negativity in the world, let's shine a positive light!
The most clicked post from last week's Blog Hop was from:
14 Real Food Soup Recipes to Keep you Warm this Winter
from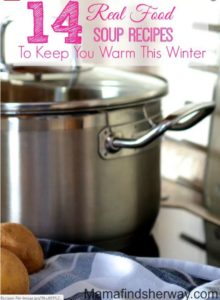 ***Each week, our co-hosts will each choose 10 of our favorite links, along with the most clicked link, and pin them to our Encouraging Hearts & Home Pinterest board.
How to Link Up
Use the form below to share your posts this week, and maybe you'll discover some new ideas from all the fabulous links!
Please share only your family friendly posts with us!
Please only link up images that you have the rights to use.
By linking up, you agree that if your blog post is selected to be featured on any of our hosts' blogs, we can use an image from your post with a link back to your post.
Other nice things you can do
Visit a few other bloggers and show them your support. We all love getting comments, and who knows what inspiration you may find? Be sure to share the love–that's what a blog hop is all about!
If you are interested in co-hosting, contact Anne at anne@mylearningtable.com