This week we finished working up the delicious pears that we picked at my friend, Caroline's house.  The trees were planted over 100 years ago and several generations of her family and the neighborhood have benefited from those trees.
Previously I have always just canned the pears as slices or pear sauce.  This year I also canned some pear pie filling. The recipe I used for the pear pie filling was the same as the  apple pie filling recipe.
Note: A few years ago when working up pears Adisyn asked why we didn't use the apple peeler/slicer for pears too. Um, well because I never thought about it! So needless to say now we use the apple peeler/slicer and those pears work up much faster.  However, if the pears have started to get soft it doesn't work well.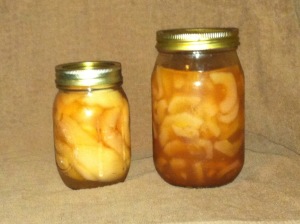 Pear Pie Filling
6 quarts sliced pears (approximately)
5 1/2 cups sugar
1 1/2 cup Clear Jel®
1 T Cinnamon
10 cups cold water
3/4 cup bottled lemon juice
Mix the sugar, Clear Jel® and cinnamon in large stock pot with a whisk.  Then add cold water.  Stir well.  Cook on medium high heat until begins to thicken. (continue stirring well!) Once it is thick and transparent add the lemon juice. Boil for one more minute. Then gently turn the pears into the hot filling and return to a boil.  Then ladle the pear pie filling into the prepared jars and process either in pressure canner or water bath.
Pear Slices
Peel, core and slice pears. I use a very light syrup. (10 1/2 cups water and 1 1/4 cup sugar) Heat the syrup then stir in pear slices and boil for 5 minutes. Pack the pears and syrup into prepared jars and process.
Below are the times for both the Pear Pie Filling and the Pear Slices:
Pressure Canning

Size
Time
0-2,000 ft
2,001-4,000 ft
4,001-6,000 ft
6,001-8,000 ft
Quarts
10 minutes
6 psi
7 psi
8 psi
9 psi
Water Bath Canner
Size
0-1,000      ft
1,001-3,000 ft
3,001-6,000 ft
Above 6,001 ft
Quarts
25 minutes
30 minutes
35 minutes
40 minutes
*Before canning please read the recommendations for your pressure canner!
Blessings,
Jennifer
Linked to: