Happy Monday! I hope you had a wonderful Resurrection Sunday! We certainly did. Even if it was cloudy and we didn't actually see the sunrise at sunrise service, it is always an exciting time to fellowship with our church family.
This week has been extremely busy and productive. We were finally able to get the shrubs planted. Huge celebration there! We have also gotten more garden planted. I just love the warmer weather!
We have also added a milk cow back to the farm so we have fresh milk and cream. YUMMY!
I hope you will join this week's blog party! Remember it is open all week so be sure to stop back by to see what others have added during the week. Last week we had some great posts!!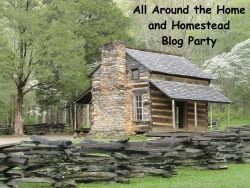 Blessings,
Jennifer