Happy Monday! We are almost out of Mondays in 2017! I really can't believe that this year is almost over! This past week we said good-bye to the warm temperatures and hello to winter. I guess it's that time of year though.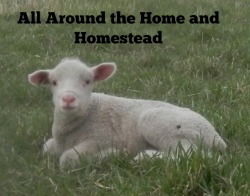 Did you see last week's posts? I love Kathi's Power's Out Kit! What about Michelle's  "Looking for an expert on these topics?" or her "Christmas Riches" post? The Inquisitive Farmwife tells us why she is thankful. Other great topics include; chickens, garden mulching, hagfish (I'd never even heard of!), carbonated ginger ale, dealing with trying to get everything done in a busy season of life,  tiny Christmas trees. If you haven't taken time to check out last week's link up, I really want to encourage you to do so.
Thank you to all those who have linked up! I hope to see you back again this week!
Blessings,
Jennifer