Happy Monday Morning!
The unseasonably warm weather we have been having here has been much appreciated but it looks like it will be coming to an end in the very near future. I am thankful for the good weather though as we have been able to get several projects done outside.
I hope you will stop back by during the week to see the posts that are linked up. Thank you to those who participate each week.
Now it's time for the All Around the Home and Homestead Blog Party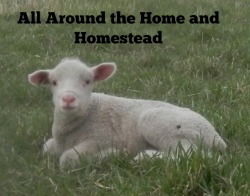 Blessings,
Jennifer