Hannah likes to be like everyone else and work on school even if she is only four. Recently, she (and I) have had the opportunity to review a  a couple of great items from The Pencil Grip, Inc.;  The Ultra Safe Safety Scissors and The 3 Step Pencil Grip Training Kit. Hannah has really been enjoying her very own school supplies!
The pencil grips are always a popular item at our house. They are so comfortable to use that even the big kids like to use them. The 3 step Pencil Grip Training Kit is unique in that the there are three separate grips that Hannah has been using to make sure she holds a pencil properly. These grips are designed to be used either left or right-handed.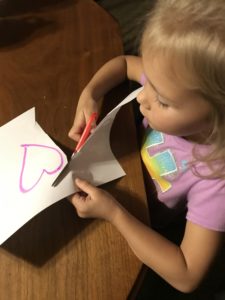 As is typical of my girls, Hannah loves to draw and do crafty projects. So getting her to use the pencil grips and safety scissors was an easy task.
Have you ever had one of your kids cut their hair or their sibling's hair? Years ago when the big kids were young, this happened at our house and let me tell you it leaves mom less than happy. However, I can assure you that with The Ultra Safe Safety Scissors this hair cutting debacle isn't even possible. Hooray!!
The Ultra Safe Safety Scissors are not dull like a lot of safety scissors. They have a unique clear plastic piece that makes it impossible to get fingers in the scissors so they don't have  to sacrifice sharpness to make them "safe".  These other types of safety scissors leave the kids frustrated because they often tear the paper more than cut it. That is not at all the case with the Ultra Safe Safety Scissors. They are easy to cut with and leave a nice, clean cut.
A Little About The Pencil Grip, Inc.
In 1992, the Pencil Grip was invented by Dr. Lois Provda, a prominent educational therapist. According to the website, "The Provda family is incredibly grateful to the millions of parents, teachers, and therapists who have put their trust in The Pencil Grip, Inc's products" for the past two decades.
Connect with  the Pencil Grip on these Social Media Links:
Facebook: https://www.facebook.com/thepencilgrip/
Twitter: https://twitter.com/thepencilgrip @thepencilgrip
Pinterest: https://www.pinterest.com/thepencilgrip/
I hope you will read the reviews from other members of the Homeschool Review Crew by clicking on the banner below.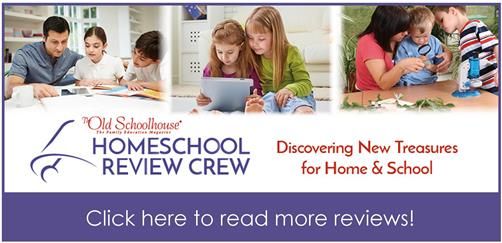 Blessings,
Jennifer


We are a participant in the Amazon Services LLC Associates Program, an affiliate advertising program designed to provide a means for us to earn fees by linking to Amazon.com and affiliated sites. Thank you for purchasing through my links.