One of the things my kids enjoy doing is building things and I like when they build things that use their imagination  (and are easy on the pocket book.)  In our local coop (and in our own homeschool) we have taught various classes that encourage STEM (Science, Technology, Engineering, and Mathematics) education.
One such class offered by our coop utilized the 4-H Junk Drawer Robotics Level 1: Give Robots a Hand curriculum which is available from the National 4-H Mall. The kids built various contraptions including marshmallow catapults.  When they finished their catapults, the kids were able to show them off in a just for fun competition.  It was very rewarding to see their creativity!
In our local coop, I also taught a separate class that featured building mousetrap cars.  It is so fun to watch the kids research ideas for how to make the mouse trap cars and then add their own creative twist!
The mouse trap cars are made from ordinary mousetraps. The creativity kicks in when the kids decide
what type of wheels to use, i.e. old cds/dvds, wooden wheels, plastic container lids, canning lids etc.
how the energy from the mouse trap in redirected to make the car move (for example, a string wrapped around the axle and attached to the mouse trap)
how big the actual car is that the mousetrap is attached to
whether or not to attach an arm to the mousetrap mechanism
what to use for axles etc.
Basically the idea for the junk drawer robotics and the mousetrap cars is to utilize materials that are cheap and easily available. Some of the items that we try to keep on hand that encourage this type of building include (but are not limited to, you can use your imagination here) popsicle sticks, paper fasteners, straws, small nails or screws, paint sticks etc.  Many of these items can be picked up at the local dollar store or big box store relatively inexpensively. The kids learn to think "outside the box" which will serve them well for a lifetime!
Because Rebekah wasn't old enough to participate in the coop class; she recently requested that I teach her how to build a mouse trap car.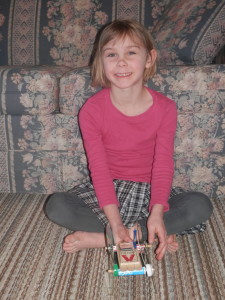 She built her car using a mousetrap, dowel rods, the tubes from dried up markers, old cd's, the lids from pop bottles and a string.  She held it together using duct tape and a hot glue gun. (I have the cutest video of her if I can figure out how to turn it 90 degrees so you can watch it.  She was so pleased to see her car go!)
This is Brock's catapult that he created this week from paint sticks, craft sticks, dowel rod, plastic cup, duct tape and rubber band.  He used the hot glue gun to hold it all together.
How do you encourage STEM education? What do your children enjoy building or constructing?
Blessings,
Jennifer
Linked to: