Recently we set up an automatic waterer on a pallet so that it could be portable.  We don't really want to put a lot of permanent infrastructure on this farm as we are just renting it, but we also like the convenience of automatic waterers for our livestock.  The waterer we used was a "new" waterer that had never been used.  We bought five of these waterers last summer in an auction.  They are several decades old but have never been used.  We have had to replace the floats as they were not in very good shape but everything else has been working fine.
We started with a standard size pallet and attached a floor to the top of it.  We actually reused an old barn door and cut it to size and screwed it down.  Next Scott put a piece of plywood on top of the barn door where the waterer was going to be attached.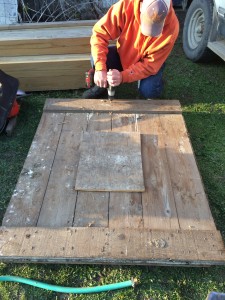 Then he used a keyhole bit on the drill to  cut a hole in the side of the pallet.  This is where the water hose goes under the pallet.  We used the same keyhole bit to cut a hole in the top of the pallet so the hose could be attached to the waterer.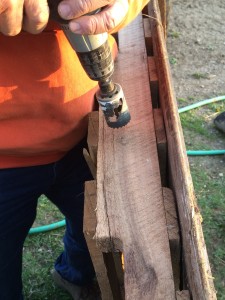 Scott then fed the black pipe through the hole in the side and up through the hole in the top of the pallet.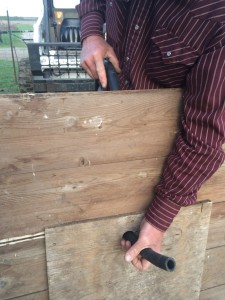 From there he attached the ends necessary to fit this particular waterer.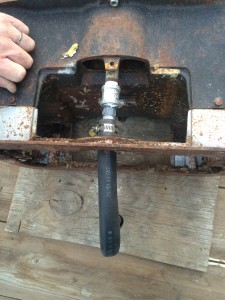 On the end of the black pipe he attached a replacement hose end with a heavy duty clamp.
We used the skidsteer to move the pallet/waterer into place then attached a garden hose to it.  The only trouble we have had so far is that initially the clamp on the hose wasn't tight enough and it leaked some.  That was an easy fix by just tightening it.  We keep the edge of the pallet right by the electric fence to keep the hogs from playing with it.
We plan to install more of these waterers on pallets to use while the weather is warm.  Of course, this wouldn't be a good plan during cold weather as the hoses would freeze and burst but it is working well for now.
Blessings,
Jennifer
Linked to: