One of the first upgrades we are making to our farm is planting fruit and nut trees, berry bushes and shade trees.  There are many different places available to purchase these trees and bushes, one of the places I am utilizing is the Missouri Department of Conservation Seedling Order Form (MDC).   The order for the MDC Seedlings is placed in the fall and then the trees are delivered in the spring.  (I know that other states also offer this type of tree and shrub order form, check with your local conservation department.)
In the spring of 2014, I planted elderberries and currants that I ordered in the fall of 2013 from MDC.  They came as small twigs; however, a few of the elderberries did bear fruit this year.  Those elderberries have grown so much I don't think I will be successful in moving them.  This morning I dug the currants though, in hopes that I can get them to transplant successfully.  They have grown since we planted them but they were still easy to dig; the dirt was damp and loose.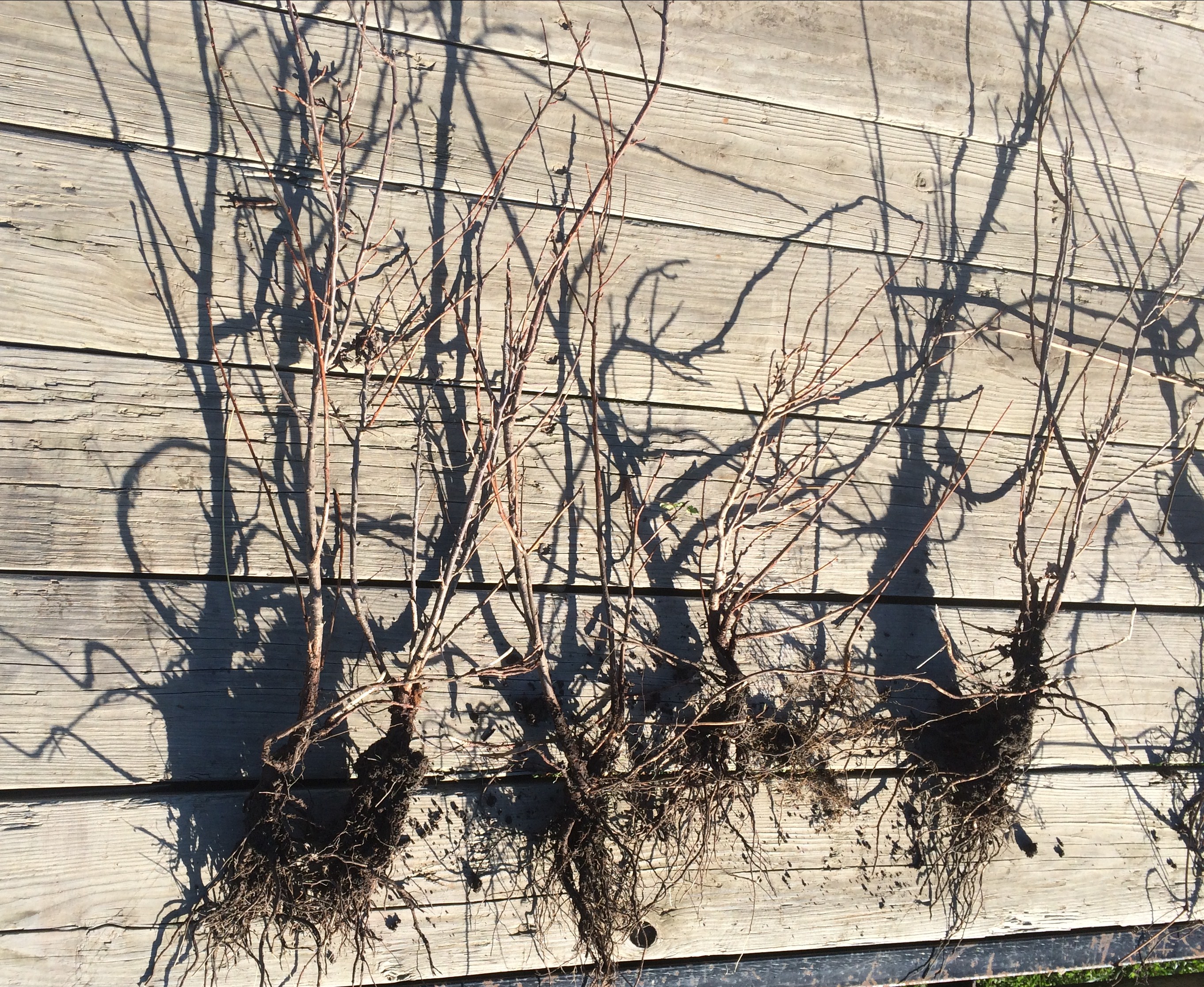 This year for my order, I went together with my friend, Julie over at Missouri Farm Girl:  Health and Homeschooling on the Homestead to place my order.  We ordered 25 elderberries, 25 pecans, and 10 pawpaws that we will divide in half; and she ordered 10 black walnuts.  By coordinating, we could save on the cost of the individual trees/shrubs and also on shipping.  Our order should arrive in March.  My part of the invoice came to $18.47.  (This amount includes tax and handling.) The trees and shrubs that I ordered averaged $.62 each.
I also joined the National Arbor Day Foundation and purchased several trees through them.  With my $15, 6 month membership I was able to receive 10 free trees.  The bundle I chose was called the Autumn Classics.  It contains:
2 Sugar Maples,
2 Red Maples,
Scarlet Oak,
Red Oak,
Sweetgum,
Silver Maple,
White Flowering Dogwood, and
Washington Hawthorn
The trees in the packages are grouped according to the types of trees that will grow well in my location.
I also ordered various fruit trees from them including:
Red Delicious Apple
Stayman Winesap Apple
Early Harvest Apple
Bing Cherry
Black Tartarian Cherry
Golden Jubilee Peach
Hale-Haven Peach and
Elberta Peach
I spent $108.84 with the Arbor Day Foundation.  I will receive 19 trees (they offered an additional free Red Maple with my order) for an average of $5.72/tree.
Even though I am pushing the envelope on getting them planted this fall, I asked for them to be shipped to me now so that I can go ahead and plant them.  Hopefully I haven't waited too long to get them!
I know there are orchards that I could get bigger trees from but I also would have had to spend more to get those bigger trees.  I had set a budget of $125 for myself for the purpose of buying trees.  I ended up spending $127.31 so I stayed pretty close to my budget.  🙂  I decided I would rather get all the trees now and wait an extra year for them to produce rather than having to wait to finish buying trees.
My hopes are to get various berries in the spring.  I would like to get strawberries, raspberries, and blackberries.  I am going to try to move the grapes we planted in the spring of 2014.  I don't know how well that will work.  If it doesn't work to transplant them, I will purchase more grapes.
Blessings,
Jennifer