Do you struggle to keep your homeschool, home and extracurricular activities scheduled?  I have used several different kinds of planners and I can honestly say that Homeschool Planet from Homeschool Buyers Co-op  fits our family's needs the best!  For this review, I received a one year subscription to Homeschool Planet.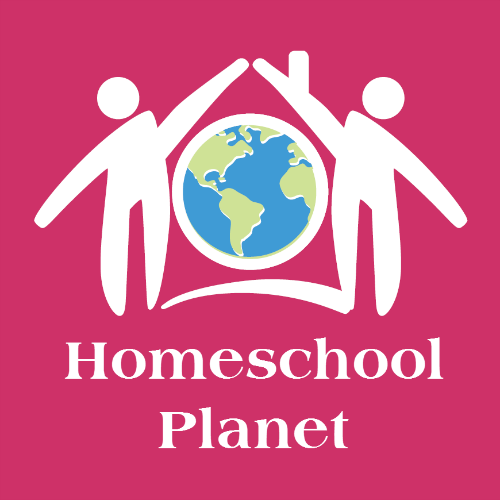 What is Homeschool Planet and How Does it Work?
Homeschool Planet is a very user friendly, online planner.   Not only can you have a plan for your homeschool, but also your home!  I cannot stress enough how user friendly Homeschool Planet is!
Overview of Features:
Three different viewing options: Calendar View, Planner View and Resource View

Calendar View:  When you chose calendar view you can look at everyone's calendars at once or pick one person's calendar to view.  This is my favorite view, because I had the option to color code the activities and classes I entered this allows me to tell at a glance what type activity it is. 
Planner View:  The planner view provides a list of the activities/classes on your schedule and when they are happening.
Resource View: The resource view provides the list of all the resources you have entered that you are using for your homeschool (i.e. books, DVDs, websites.)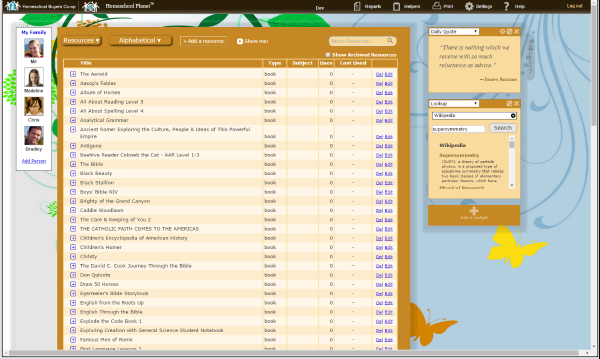 Separate logins: With Homeschool Planet you have the ability to have separate logins for each child/parent.  They can then view and check off their assignments when completed.
Daily Digest:  This is another favorite aspect for me!  I really appreciate the daily emails.  These help me to stay on task.  I can start my day knowing what is on the schedule for the day.  These daily digest emails are available for everyone in your family to receive with their schedule, assignments, chores etc.
Weekly Digest: The weekly digest email is delivered to your inbox at the beginning of the week and contains that particular week's schedule.  I also like this because sometimes after a weekend I need a reminder of that week's upcoming activities.
Text Message Reminders: You can sign up for text message reminders; however some limits apply.
Track Attendance, Grading and Create Transcripts:  Homeschool Planet provides the ability to track attendance by hours and by core vs. non-core classes.  Record the grades your students receive and have the ability to create transcripts.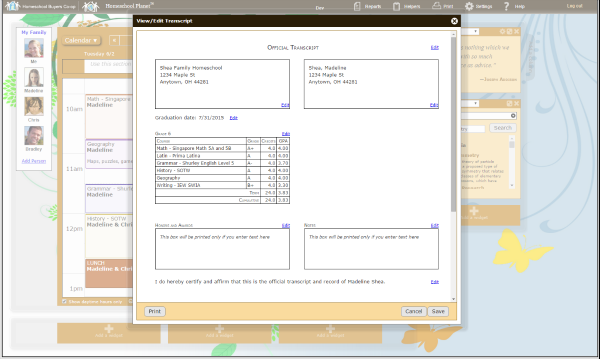 To-Do Lists: You can make individualized to-do lists for each member of your family.
Shopping Lists: you can make a separate list for each store and even have the ability to send it by text message to your spouse or children.  I have stored a standard list that I use for Aldi and can print it off right before I go.  It even has boxes to check off as you get each item.
Share your/your spouse's Google Calendar and Apple iCal within Homeschool planet and vice versa.
Copy lessons for another student to use later.  For instance, if you are using a particular curriculum with one child this year and will use the same curriculum for a different child in a future year you don't have to enter it twice.  Talk about a time-saver.
And so much more!  There are so many aspects Homeschool Planet that are so wonderful.  If the lessons on the student's schedule weren't checked off on the day they were scheduled; no problem!  On the opening screen when you login to Homeschool Planet, you have the ability to do nothing about them, mark them complete or carry them forward.  This is so great because maybe the student forgot to mark them complete or maybe life happened and the assignment didn't get done.  No big deal you can easily adjust your schedule without causing stress.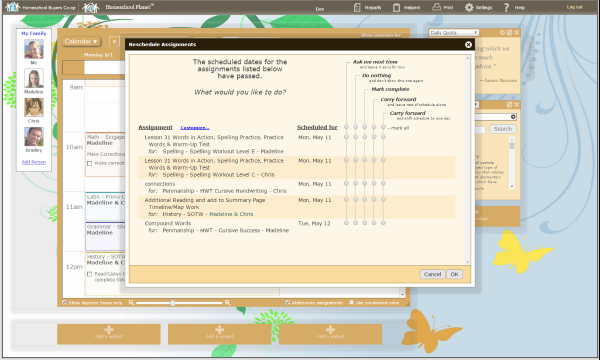 How Did I Use It?
Initially, I entered the dates that our school is in session for the summer.  Then I entered the names of my children and their classes.  Next I began entering our other activities such as church, 4-H and dentist/doctor appointments.  All of these are entered with just a few clicks.  When entering an activity or class, you can choose which members of the family it involves.  You can also color code the activities so that you know at a glance what type of activity it is.  For example, I picked green for all our 4-H activities, pink for my blogging obligations, red for church activities, blue for field trips and park days, tan for doctor/dentist appointments etc.  By having different colors I can tell quickly what type of activity it is.
Recently, I even started entering farm information such as when gilts/sows farrowed, when we turned a boar in with sows, when we dewormed etc. Then when I need to know a particular date all I have to do is show my calendar, search for "Pig Info" and voila!  I am now going back and entering data from before I started this review because it is so handy to have it in one place!  Did I mention Homeschool Planet is awesome?!
I feel like I have barely scratched the surface for what I can do with Homeschool Planet.  I love how user friendly it is.
Normally you can sign up for a 30-day free trial to Homeschool Planet (no credit card required) however until Friday, July 17 at 11:59 pm ET you can actually sign up to receive Homeschool Planet free for 3 months!  If you decide Homeschool Planet is a good fit and purchase it, you won't even lose any of your information.
Connect with Homeschool Buyers Coop on Social Media:
Facebook: https://www.facebook.com/homeschoolbuyers
Twitter: https://twitter.com/hsbuyerscoop
Google+: https://plus.google.com/112069021534542740249/about
You can read what other members of the Schoolhouse Review Crew have to say about their experiences with Homeschool Planet by clicking on the banner below.

Blessings,
Jennifer
*I would really appreciate it if you would take the time to sign up to receive an email for each post so you don't miss anything. You can find the "Subscribe to Blog via Email" button at the top of the blog and enter your email.  Thank you!