Summer school isn't always met with tons of excitement, however, when you have fun interesting classes like Fascinating Biology from Fascinating Education that helps to keep the kids excited about learning. Brock has been reviewing Fascinating Biology and he has enjoyed the lessons!

Previously, we had the chance to review
Fascinating Chemistry
and since then they have made upgrades in the their website including load speeds. Brock did notice a difference in how fast the site loads now compared to how fast it loaded for the previous review. However, we haven't made it through as many of the lessons as we had hoped at this point, as they were having technical issues with their site. It is my understanding that in making the upgrades there were some technical issues which caused problems with the sound for the lessons. However, they were so great to keep us in the loop as progress was being made with the sound problems and now they are all fixed. I mention this to say that if there is ever a tech issue in the future I feel certain they would be diligent about fixing it as quickly as possible. To me, this speaks volumes in their dedication to those using their program.
About Fascinating Biology
There are 15 Lessons in Fascinating Biology. Each lesson features a video that covers the lesson material. There are is a downloadable script available for each lesson. This transcript is a great way for the student to review the material covered without having to watch the video again. There is also an online test at the completion of each lesson.
If you prefer, you can also print off a pdf for each test. There is also a pdf answer key available. This option would work exceptionally well for keeping a portfolio of your student's work. Here is a sample of the type of tests available, this is part of the first page of Lesson 11 test.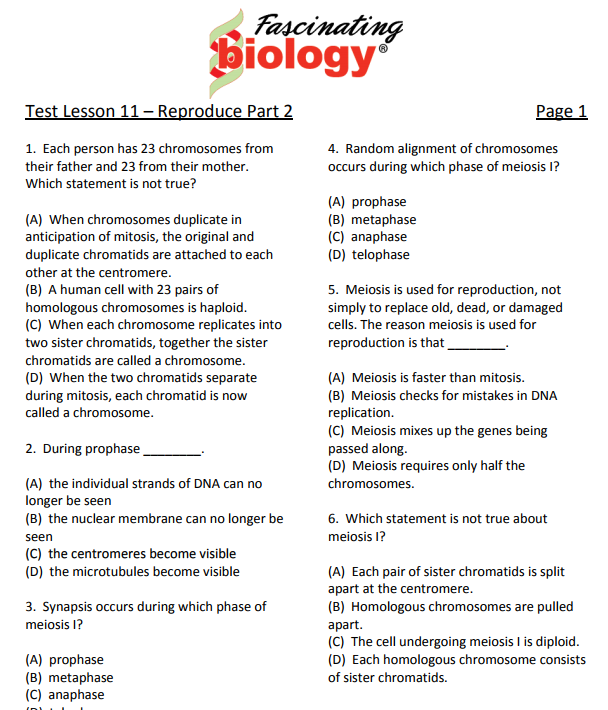 As you can see, there is a lot of material covered in each lesson. However, it is presented in an interesting manner and Brock has found it quite enjoyable.
Lesson Overview
Lesson 1: What is Life?
Lesson 2: Chemistry Review
Lesson 3: The Cell Membrane
Lesson 4: Take in nutrients
Lesson 5: Take in Energy, Part 1
Lesson 6: Take in Energy, Part 2
Lesson 7: Take in Energy, Part 3
Lesson 8: Take in Energy, Part 4
Lesson 9: Grow
Lesson 10: Reproduce, Part 1
Lesson 11: Reproduce, Part 2
Lesson 12: Reproduce, Part 3
Lesson 13: Homeostasis, Part 1
Lesson 14: Homeostasis, Part 2
Lesson 15: Adapt, Part 1
Lesson 16: Adapt, Part 2
Lesson 17: Prokaryotes, Protists, Animals and Fungi
Lesson 18: Plants

Some of the topics included within these lessons include:
Osmosis and diffusion,
NADPH,
Photosynthesis,
Calvin cycle
Krebs Cycle
Mitosis
Meiosis
Aerobic and anaerobic metabolism.
Brock really enjoys how the Fascinating Education courses are set up and he finds the videos interesting. I'm glad we have had the opportunity to review the Biology course. It has been a good fit for him!
Other members of the Homeschool Review Crew have been reviewing Fascinating Biology and two of the other Fascinating Education courses, Fascinating Chemistry and Fascinating Physics. I encourage you to read the reviews from other members of the Crew to see if one of the Fascinating Education courses would be a good fit for your family.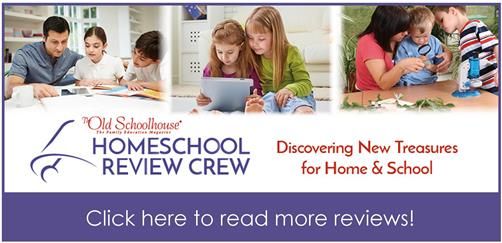 Blessings,
Jennifer