Do you get frustrated with a traditional row garden?  I know I sure do!!  It seems that we always hit a rainy period where the weeds grow, well like weeds. Then I can't get in the garden to pull them because I would sink past my ankles in mud.  This gives the weeds a leg up on me all summer long and I just get FRUSTRATED!
What do I do to avoid this frustration?  I use raised beds based on Mel Bartholomew's book All New Square Foot Gardening.  However since we moved back to Missouri, I had not gotten any garden boxes made.   But with our move to our new farm, I want to get my garden started off on the right foot.  So the kids and I took advantage of Friday's beautiful weather and constructed three boxes that each measure 4'x12'x6″.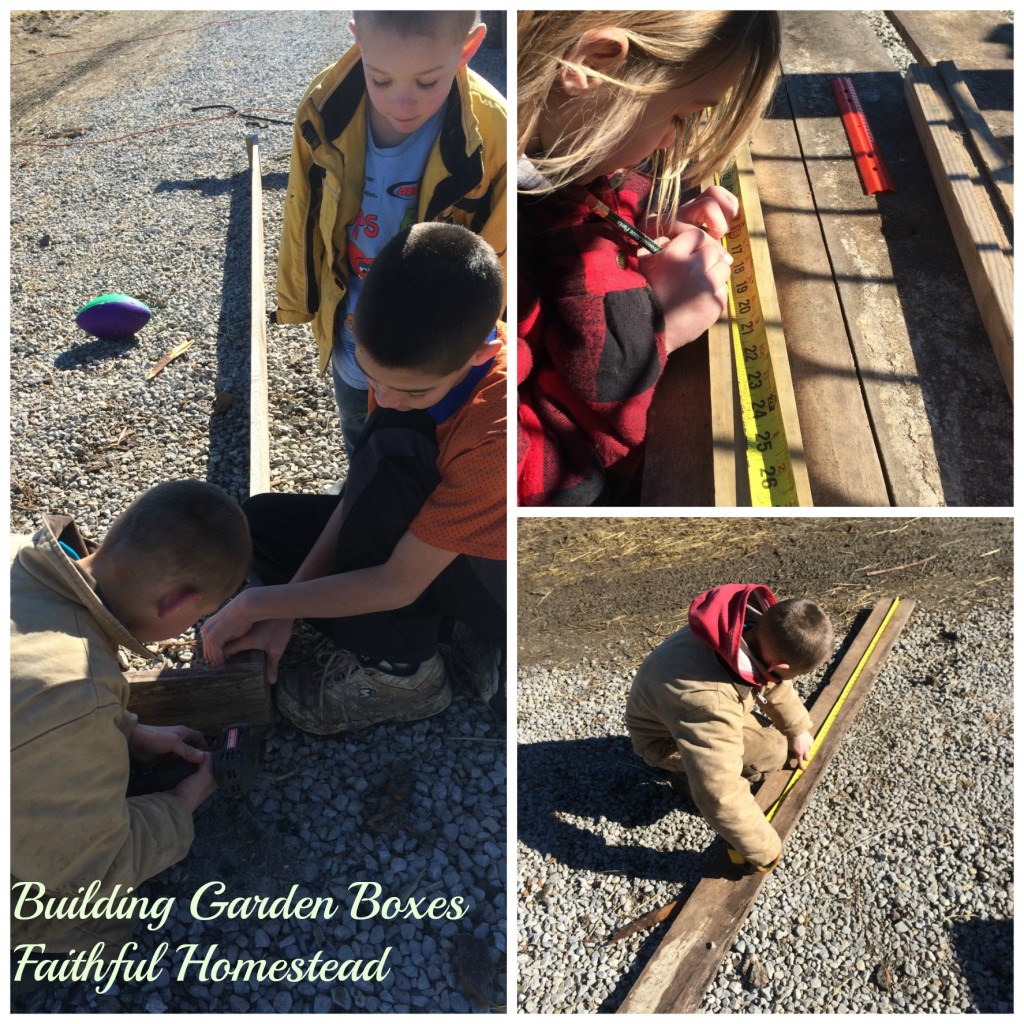 The great thing about garden box construction is that there is a job for almost everyone in the family.  Rebekah was able to measure and mark the cutting line on the boards that we used in the corners at 6″ increments.  Eli measured and marked the 4′ pieces that form the ends of the boxes.  Brock, Adisyn, Eli and Rebekah all helped screw the boxes together.  Quinton and Hannah enjoyed supervising the progress.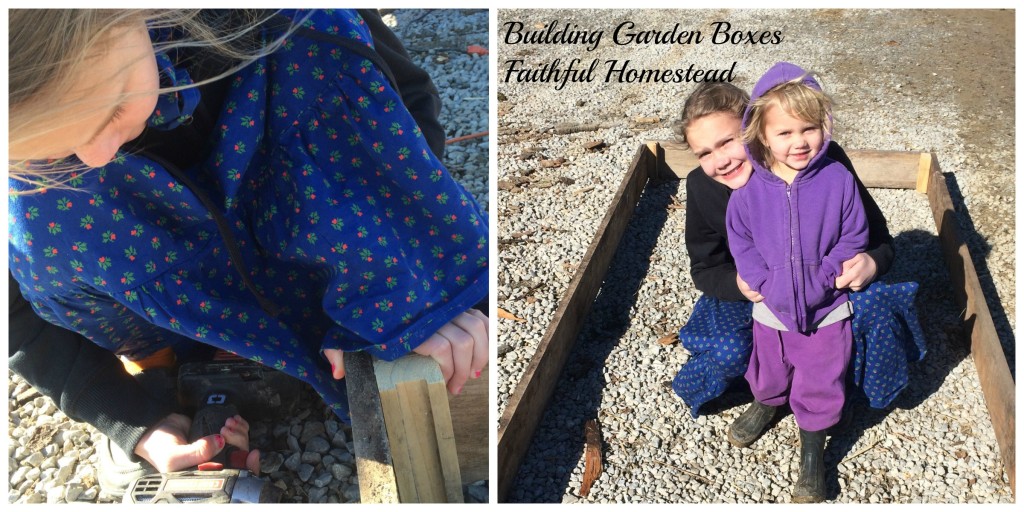 How Did We Build Them?
Last fall when my dad had some oak logs sawed, I got some 1″x6″ and 2″x6″ boards. We had used most of the boards for other projects, but I still had 8-1″x6″x12'3″ boards left. With these eight boards, we were able to make three garden boxes.
I cut each of the side boards to a length of 12 foot.  After Eli marked the cutting lines for the four foot end pieces, I cut those as well.  Since we used 1″ lumber, I put a scrap piece of 2″x2″x6″ in each corner so that we could connect the corners without splitting the 1″x6″ pieces.  (Rebekah measured and marked the cutting line for each of the six-inch corner boards.)  We then screwed the boxes together using 2″ deck screws.
I am in hopes that we can get the boxes set and filled before the baby is due in March.  I also hope that we can build six more boxes and have them ready as well.
You have probably noticed that I am eager for spring to arrive.   With the baby due in March, I feel an extra urgency to get as much done before the start of the spring garden season as possible.  Are you anxious for spring as well?
Blessings,
Jennifer