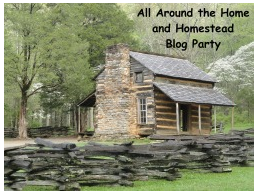 I just love the weather we've been having! Around here life is never boring or dull but I love it all the same. For example,  yesterday morning when I went to milk the cow, I was met with pigs who were tearing up the calf feed sacks. The pigs that we are fattening out managed to make a hole in their fence and escape and one of the kids had left the gate open to where the calf feed is.
Then when a couple of the kids were putting the fishing poles in the van, so they could go fishing at the grandparents' after church, they discovered that one of the tom cats had been accidentally shut in the van overnight. He decided to pee, poop and shed all over the van. UGH! Scott and the girls cleaned it as best they could but that smell! We were sporting the wind blown look when we got to church. 🙂
This morning I started filling a water tank and then went ahead choring. After I was back at the house, our renter/neighbor texted and asked if we had a water leak because she had very little water pressure. Whoops! Thankfully it hadn't run over yet! I am so glad she checked!
Then as she was getting ready to leave for work she saw our dairy cow out for a stroll on the highway! Mary, the Jersey cow, decided she should go for a 1/2 mile run this morning. So then she got to turn around and walk/run the half mile back. I'm so thankful for our renter/neighbor!! She saved the day, twice! Thank you, Carrie!!
I tell you all this to say as much as I love this life, I think I need gates that automatically shut when the kids leave them open. And this "simple" life isn't always so simple. I hope you have a blessed week and all the animals stay where they are supposed to be.
Blessings,
Jennifer