Do you ever wish you could have an educational movie day in your homeschool or home?  With SmartKidz Media Library for Homeschoolers you can do just that!  Except it doesn't have to be just one day.  We have been enjoying many, many different titles from SmartKidz Media.  For this review, I received a one year subscription to SmartKidz Media Library for Homeschoolers.

SmartKidz Media has such a wide variety of topics that they cover and more titles and categories continue to be added. Below you can see a screen shot of the dashboard.

The dashboard is divided into two main categories: Family Media & Reading and Learning Center.  Family Media currently has 17 different Collections within the World Of Discovery Section with more collections coming soon.  The Music & Fine Arts has 8 different collections. In both the Family Media category and the Reading and Learning Center there are 5-11 different titles within each collection.
The Reading and Learning Center is divided into eight categories:
Mighty eBook Collection
Baby Signs Program
My Animal Family
Quick Find Study Guides
Learning Special needs
Living Skills Program
Ready Set Sing and the
Fun Zone
The Mighty eBook Collection can be used on any device that utilizes flash.  The text of the story turns red while a voice reads the story.  By highlighting the words as they are read, young children are encouraged to develop their reading abilities. The titles within the eBook Collection feature classics such as Aesop's Fables and The Real Mother Goose to stories which help develop Reading Readiness to Science titles to Bible Stories and Songs.  This is a large collection of eBooks with many different subjects.
My Animal Family
The title that we watched from this collection was called Leo-A Baby Lion's Story.  It was a cute 15 minute video that follows the life of a lion cub in the Serengeti Plains in Africa.  The narration is done by a child so it sounds like the baby lion is telling his own story.  The video is from BBC wildlife video footage.
How did we use it?
We have enjoyed numerous videos some that have tied into other lessons we have been studying and some just because they looked interesting!  One of the kids' favorite things about SmartKidz is the Cultural Music, specifically German music.  Yes, you read that right, they like the German music.  When we are doing chores in the house we like to listen to music and we have tried out most of the different types of music on SmartKidz; classical, jazz and blues, cultural, and music for relaxation, but the one they keep coming back to is the German music!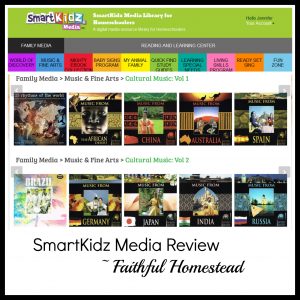 We have also enjoyed several of the titles from the Animals & Wildlife Collections.  The kids love to learn about different animals and these collections have been some of the favorite videos.  We have learned about numerous types of animals from tiny hummingbirds to the huge beasts such as the rhinoceros.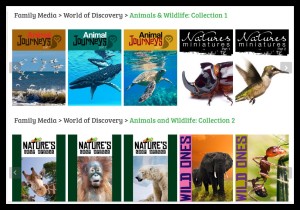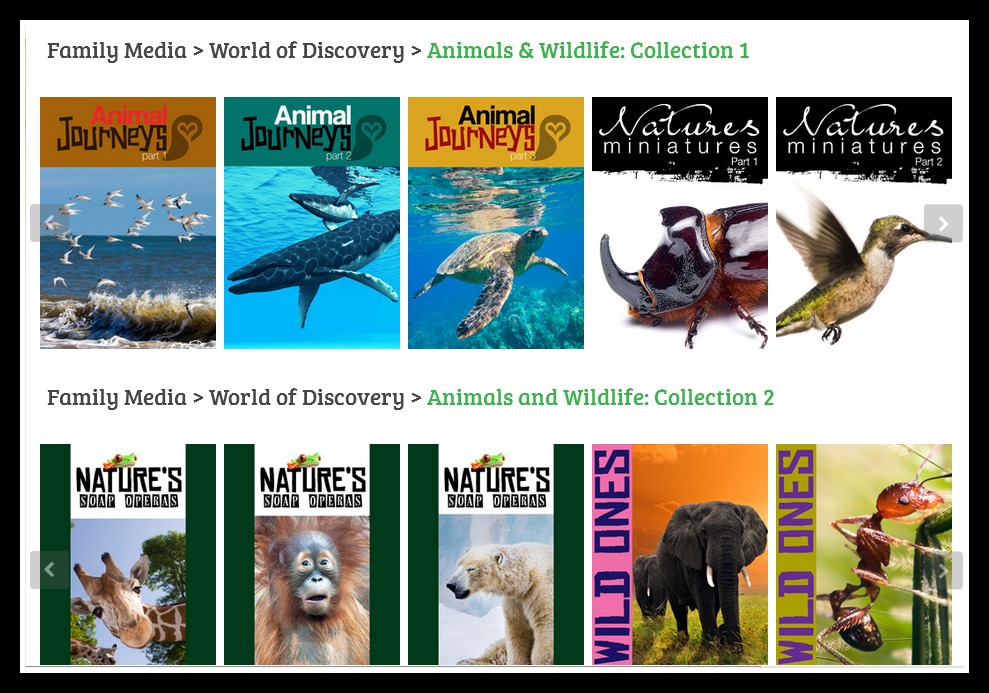 We have also watched several of the titles from the Documentaries & Culture Collections.  These include Mysteries from Ancient Times  such as the Nazca Lines, Stonehenge, and the First Americans.  We also watched some of the Ancient Cultures videos.  These were also very interesting; however, there was one title that featured a ritual dance done by naked tribal women.  Although this is a true-to-life video of their lifestyle, it was uncomfortable for the kids so we just changed videos.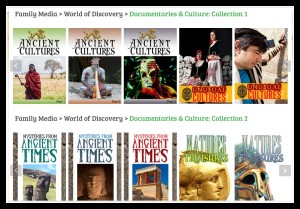 Would I Recommend SmartKidz Media?
Absolutely! The titles available through SmartKidz Media are so numerous that we haven't had the chance to explore nearly all of them yet but so far we really enjoy it.  I would definitely recommend SmartKidz Media as a great way to enrich your homeschool.  There are actually two membership options available; pay by the month for $10 each month or prepay for the year for $99, making it an affordable program.
Don't just take my word on it though, check out what other members of the Schoolhouse Review Crew have to say by clicking on the banner below.

 Connect with SmartKidz on
Facebook
and
Twitter.
Blessings,
Jennifer
*I would really appreciate it if you would take the time to sign up to receive an email for each post so you don't miss anything. You can find the "Subscribe to Blog via Email" button at the top of the blog and enter your email.  Thank you!