There is a time for everything,
And a season for every activity under heaven:
A time to be born and a time to die,
A time to plant and a a time to uproot.
Ecclesiastes 3:1-2
There will always be times in production agriculture (or life) when things don't go as planned.  Today was one of those days several times over.
We have been lambing and up until today it has gone fairly smoothly.
Scenario 1)First thing this morning I found a lamb that no one was claiming.  Two ewes had lambed; one with a single, the other with twins but neither wanted anything at all to do with this lamb.  I wanted to make sure that the poor orphan lamb received colostrum so much to the dismay of the mother of the single I slipped a halter on her and tied her up.  Then I helped the orphan nurse.  Let's just say the mama wasn't happy but I wasn't asking her opinion.  Bottle lambs are a lot of work and without colostrum the task of having a healthy lamb is even harder.
Scenario 2) A ewe that had triplets the other evening never seemed to be giving enough milk so I had been supplementing them with a bottle.  One got injured sometime yesterday, presumably by being stepped on.  Today that one and the other smaller one were dead.  More UGH!
Scenario 3) After we finished school, Adisyn and Eli went out to play and on their way the walked through the ewes that are lambing.  They came back to the house saying that they thought a ewe was trying to lamb and that she was prolapsed.  Well I'm hoping for a vaginal prolapse prior to lambing. NOPE! Of course not, today is one of those days. She had prolapsed her uterus after giving birth to a large lamb.  UGH again! I called the vet and the prognosis wasn't good.  Our chance of saving her and having her not go into shock was, well, slim to none.  I've helped with many cow prolapses so the vet and I decided the best option was for me to see if I could successfully put it back in.  By the time I returned to the ewe, she had prolapsed further and was now bleeding. Try as I may I couldn't get it back in so we had to make the tough decision to put her down.  UGH, UGH, UGH!!!
Thankfully behind every cloud the sunshine remains.  Sometimes in the midst of the storm it's hard to remember that simple truth.  While we were finishing up chores, I looked out into the cows and saw a beautiful sight.  The first calf of the year.  A beautiful, red heifer calf.  Today we had  a bright note to end on; however, often we have to wait longer to see the sunshine.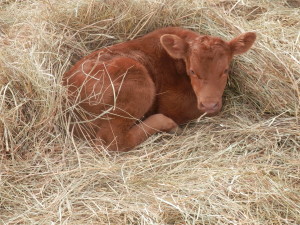 Hopefully tomorrow is a much smoother day!
Blessings,
Jennifer