As a farm family, we often stay outside working until dark, even if that's 9 pm. When we get inside we still need to get supper before getting everyone to bed. This type of schedule led to us often having the same meals over and over because I could fix them fairly quickly with what we had in the freezer. Then we had the opportunity to try the MyFreezEasy.com Freezer Meal Plan Membership from MyFreezEasy.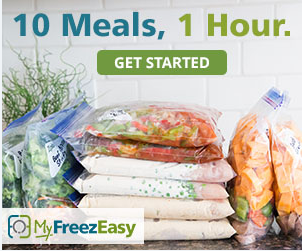 We have loved trying out a wide variety of meals that are easy to put together and have in the freezer. Now I can send one of the kids to the house while we are still out working and say, "pick what you want for supper and start it defrosting" or "go grab a FreezeEasy meal and throw it in the oven."
What is MyFreezEasy?
MyFreezEasy.com Freezer Meal Plan Membership is a subscription plan that includes:
customizable menus,
shopping lists (organized by store section and also by individual recipes),
freezer meal prep instructions.
video library with the current month's preparation highlight videos
There are such a wide variety of recipes available you shouldn't have any trouble finding meals your family will love.
About the "Build Your Own Plan"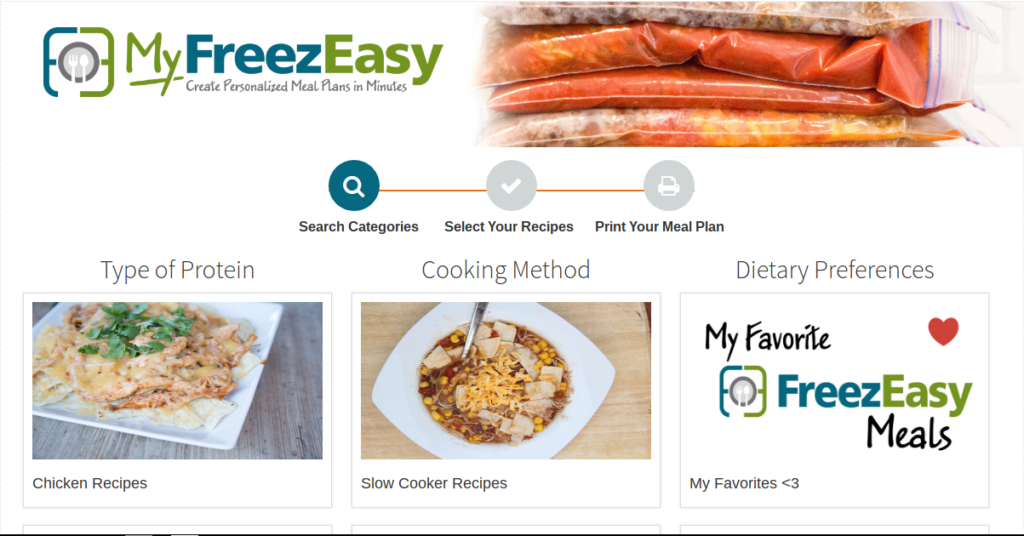 I have especially enjoyed the "Build Your Own Meal Plans" as I can pick from a wide variety of recipes. The recipes in the "Build Your Own Meal Plans" are divided into three categories; Type of Protein, Cooking Method, and Dietary Preferences.
Type of Protein is divided into; chicken, ground beef, other beef, pork chop, other pork, seafood and vegetarian.
Cooking Method contains slow cooker recipes, Dutch Oven or sauce pan recipes, baked recipes, skillet recipes, grill recipes, and one-dish recipes.
Gluten Free Recipes, Dairy Free Recipes, Gluten Dairy and Soy-free Recipes, Paleo/Whole 30 Recipes and Top 8 Allergy Free Recipes make up the Dietary Preference section.

Some of Our Favorite Recipes
Here are some of our favorite recipes:
Brown Sugar & Balsamic Pork Chops
Creamy Honey Mustard Pork Chops
Creamy Mushroom Pork Chops
Garlic Parmesan Pork Chops
Grilled Honey Mustard Pork Chops
Chicken & Broccoli Alfredo Bake
Chicken Fajita Bake
You might notice that we have mostly pork chop and chicken recipes. That's because those are the meats that we have had available. Now in the next few weeks when we get our beef butchered, I'm sure we will be trying out more beef recipes.
We honestly have not had one recipe that we made that we didn't like. We are all enjoying the variety of delicious meals that have become our saving grace when we get in late from working on the farm!
Monthly Meal Plans
Each month there are also 8 themed meal plans.
Traditional Meal Plan
The 20 Meals Plan
Gluten Free Meal Plan
All Pork Chops Meal Plan
All Ground Beef Meal Plan
All Chicken Meal Plan
Slow Cooker Meal Plan
Clean Eats Meal Plan
The monthly meal plan includes the recipes for all the 8 categories, printable labels for each of the recipes, highlights & assembly videos and shopping lists.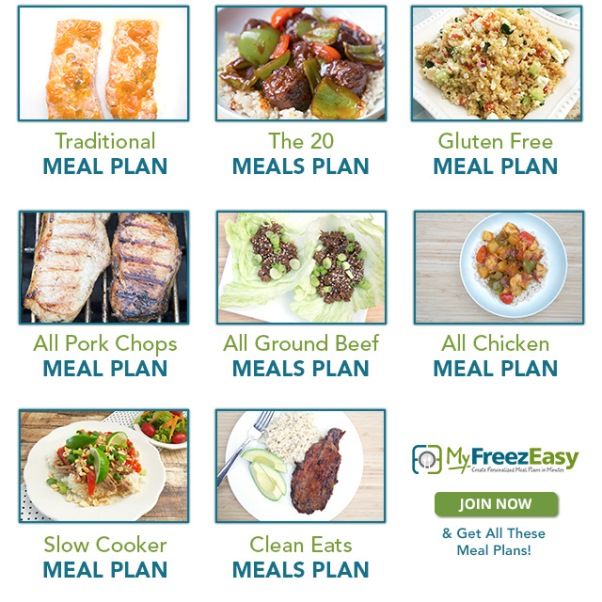 Connect with FreezEasy on These Social Media Links:
Facebook: 
http://www.facebook.com/freezeasy
Instagram: 
http://www.instagram.com/freezeasy
Pinterest: 
http://www.pinterest.com/5dollardinners/freezeasy
Make sure to read reviews from other members of the Homeschool Review Crew by clicking on the banner below.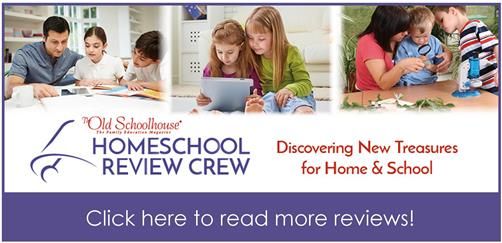 Blessings,
Jennifer