The kids love to paint and I enjoy seeing their paintings, but I don't love the clean up after they paint.  However, with the Kwik Stix 12 pk from The Pencil Grip, Inc. we can all be happy.  They get to create masterpieces and I get to enjoy the no mess kids art.  It's a win, win situation!!

For this review, we received a set of the Kwik Stix 12 pk from The Pencil Grip, Inc.  They also included a Pencil Grip, which was a fun surprise as we didn't know we would get it.  Both products have been well received by everyone in our house!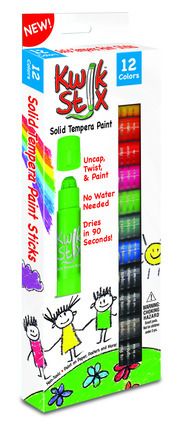 About the Kwik Stix 12 pk
The Kwik Stix  are a similar to a glue stick, making them easy for small hands to hold and use.  The Kwik Stix are solid, tempera paint which feature vibrant colors including red, orange, yellow, dark and light green, dark and light blue, purple, pink, white, black.  The variety of colors allows for budding artists to be very creative!  The company says that the paint dries in 90 seconds, however in most cases it dries even faster than that.  Occasionally, when an extremely large amount of pain was applied to one area it would take close to the 90 seconds.  These really are designed to just "uncap, twist, and paint!"
The
Kwik Stix
 have been popular with not only the younger kids but also with the older kids.  The kids have made countless pictures with them and they have yet to ever make a mess!  I really like that I don't have to get out the painting smocks or clean up paint brushes after they finish.  Even three year old, Hannah, can easily create works of art without making a mess.  What's not to love about that?!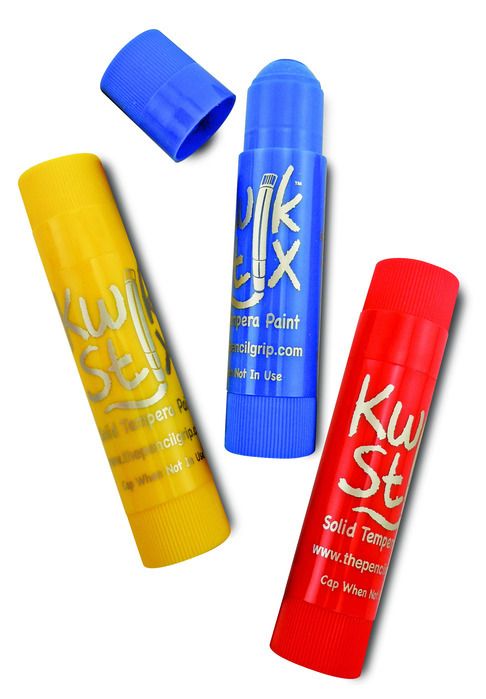 About the Pencil Grip
The pencil grip we received in called the single grip.  It can be used by either right-handed or left-handed writers.  The only difference is whether you put your thumb on the "L" or "R".  The pencil grip is so comfortable that even I enjoy using it.  It is designed to help students hold their pencil properly and I noticed that when Quinton uses it he holds his pencil much better than when he doesn't use it.
I highly recommend both the Kwik Stix and the Pencil Grip.  The Kwik Stix are a great addition to anyone's home or school setting.  The Pencil Grip is excellent for those young writers as they develop their pencil hold or for those who are trying to break bad habits regarding the way they hold their pencil.  Kwik Stix would make a great present for a young person in your life, one that their parents would enjoy as well.
Connect with The Pencil Grip, Inc. on these Social Media Links:
Website
Facebook
Pinterest
Twitter


Read the reviews from other members of the Schoolhouse Review Crew by clicking on the banner below.

Blessings,
Jennifer