We are converting an existing shed to our winter farrowing house.  This particular shed did have electricity to it and has lights, however, it only has a couple of outlets.   One of the upgrades needed is more outlets.  (During the winter, we use heat lamps to help keep the baby pigs warm.)  Since I learned how to install electrical outlets when we built our cabin, I can put that knowledge to good use now.
Winter farrowing is much more labor intensive than farrowing during the warmer months, however our extra work is rewarded by Niman Ranch.  Because it is harder to farrow in the winter, fewer producers have pigs being born then.  That results in fewer pigs going to market in the summer.  To help overcome this, Niman Ranch offers a "Summer Premium" for those pigs delivered to market during the summer months.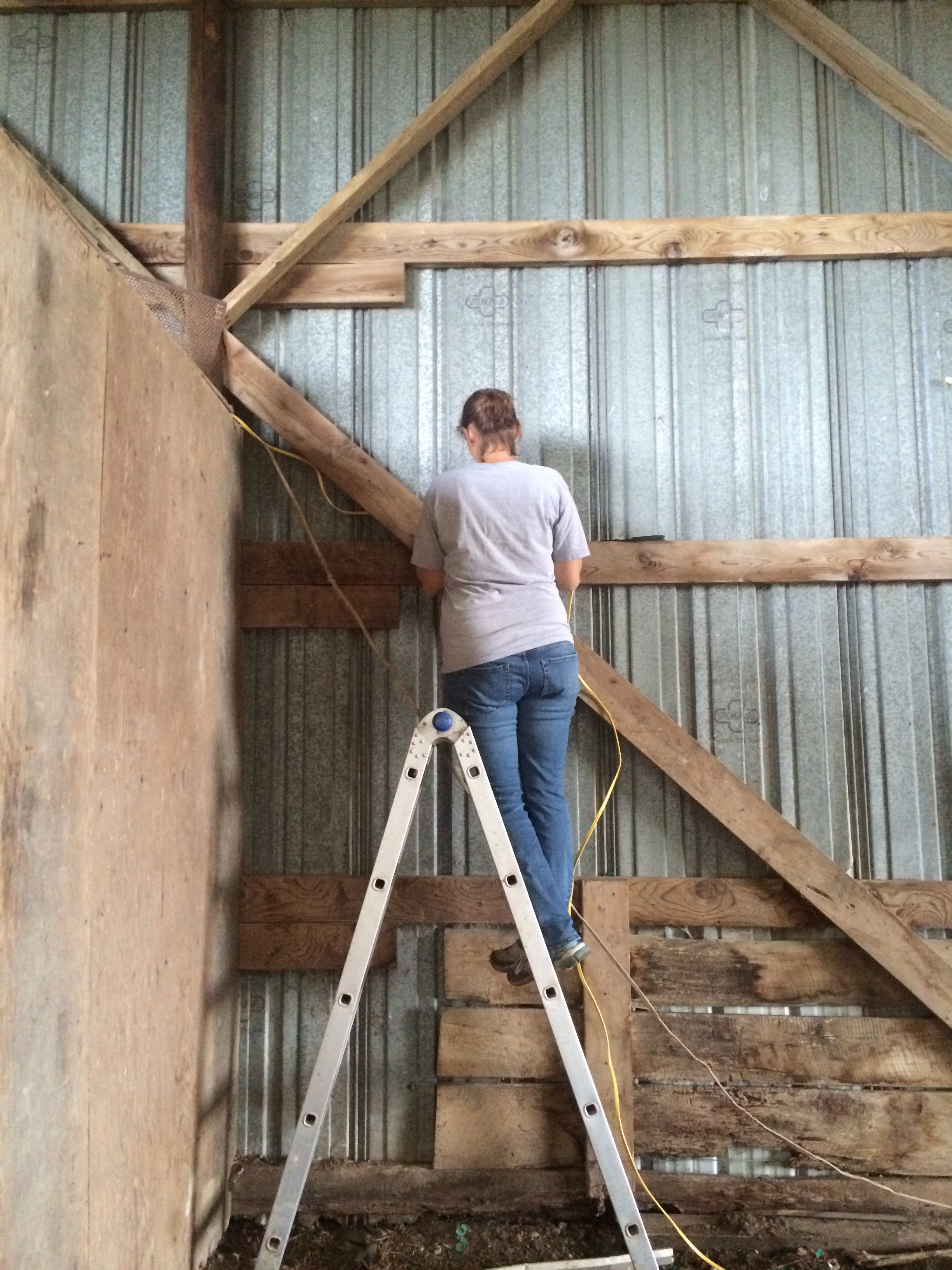 The outlets on this side of the shed are installed.  Now we just have to put on the outlet covers and connect this line to the new breaker in the breaker box to make it live.
Next up is the other side of the shed.  For this set of outlets, the line has to go up and over a 14′ doorway.  I will have to recruit help for that because I don't feel comfortable climbing that high on a ladder while pregnant.  In the meantime, the kids and I will work on placing the outlets and running the wires between each of them.
We don't get to go work at the farm everyday, but the kids and I are try to make it up there several afternoons each week (after we finish school).  The daylight hours are getting shorter, so even though Scott goes to work at daylight he still has limited daylight left when he gets off work.  This has made it hard for him to work at the farm during the week.  The kids and I will keep working during the week on the projects that we can complete and we will all work together on the weekends to do bigger tasks.
It is so rewarding to see progress being made!
Blessings,
Jennifer
*I would really appreciate it if you would take the time to sign up to receive an email for each post so you don't miss anything. You can find the "Subscribe to Blog via Email" button at the top of the blog and enter your email.  Thank you!