Charlie the beaver tells Mother, Father and Grandfather that he wants to be a tramp when he grows up.  "Tramps don't have to learn how to chop down trees and how to roll logs and how to build dams. Tramps just tramp around and have a good time. Tramps carry sticks with little bundles tied to them. They sleep in a field when the weather is nice, and when it rains they sleep in a barn." Mother, Father and Grandfather decide to let Charlie go off to try the life of a tramp. So Charlie set off with his bundle tied to a stick.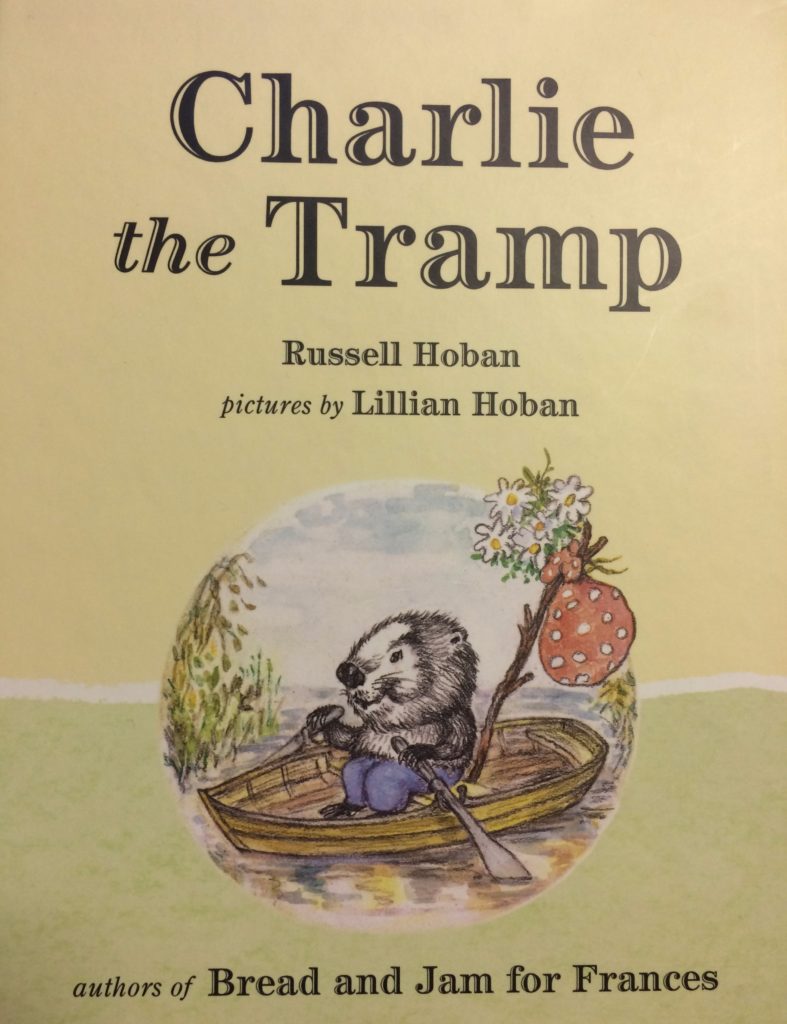 Soon though the sound of the trickling kept tickling Charlie, and he could not sit still." Will Charlie be able to enjoy the tramp's life? Or will Charlie decide to take up the life of a beaver, because as Grandfather said, "You never know when a tramp will turn out to be a beaver."
Charlie the Tramp, written by Russell Hoban (1925-2011), was first published in 1966 and this 50th Anniversary Edition is such a lovely addition to our library. Russell Hoban first became famous for his children's picture books about a badger named Frances and other animal characters that have a lot in common with children we know – bedtime for Frances, A Baby Sister for Frances, Bread and Jam for Frances, and Emmit Otter's Jug-band Christmas.
Charlie the Tramp is illustrated by Lillian Hoban (1925-1998). She is best known for a young chimpanzee named Arthur and his little sister, Violet. Born in Philadelphia, she attended the Philadelphia Museum School of Art. After having children, she began to write and illustrate her own stories, basing her tales on their experiences. She also illustrated six of Russell Hoban's books about Fances the badger.
Plough editor Sam Hine says, "As a parent of young children I've rarely found new books of this quality. So, like many other parents, I find myself returning to the books of my own childhood. Among these Charlie the Tramp was a hands-down favorite. We're thrilled to acquire the rights to this timeless classic and make it available to a third generation."
My children have all enjoyed hearing me read, Charlie the Tramp, to them. This hardcover edition will have a special place in our library for many years to come.
Social Media
OFFICIAL WEBSITE: http://www.plough.com/en/topics/culture/short-stories/charlie-the-tramp
AMAZON: https://www.amazon.com/Charlie-Tramp- Russell-Hoban/dp/0874867800/
I hope you will take the time to enter the giveaway for your chance to win a copy of Charlie the Tramp.
Blessings,
Jennifer
"Disclosure (in accordance with the FTC's 16 CFR, Part 255:  "Guides Concerning the Use of Endorsements and Testimonials in Advertising"):  Many thanks to Propeller Consulting, LLC for providing this prize for the giveaway.  Choice of winners and opinions are 100% my own and NOT influenced by monetary compensation.  I did receive a sample of the product in exchange for this review and post.
Only one entrant per mailing address, per giveaway.  If you have won a prize from our sponsor Propeller /FlyBy Promotions in the last 30 days, you are not eligible to win.  Or if you have won the same prize on another blog, you are not eligible to win it again.  Winner is subject to eligibility verification.