Our family loves to eat peaches, so each year I try to can as many peaches as possible. This year we were able to get 4 – 25 pound boxes of peaches that were locally grown. Of course, as is the nature of Missouri weather in August, it was hot and humid at the time we were canning.
I had to ask myself while canning, "What wise crazy person would want to tackle canning 100 pounds of peaches when the heat index outside is 113 degrees?" I feel certain that we were approaching the same temperature in the kitchen even with the air conditioner running full tilt.
To make a big task smaller, everyone is enlisted to help. Adisyn and I peeled peaches, cut them in half and removed the pits; while Brock did double duty of helping entertain Isaiah and slicing peaches. Eli, Rebekah and Quinton helped cut the peaches into slices and stuff them into jars. Many hands really do make light work!

I'm sure that everyone who helped with the peaches will enjoy them that much more this winter. There is something so rewarding about seeing all those peaches in jars.
Here is how we can them:
Peaches
 7 quart sliced or halved peaches (approximately 18 lbs.)
3 ¾ cups sugar
8 ¼ cups water
*Or instead of sugar/water syrup I have used apple juice.
Peach skins are very easy to remove if they are scalded and then plunged into cold water. I do them in batches by rinsing peaches and placing them in the sink. I then pour the boiling water over them for about a minute; then pull the plunger (Use a wooden spoon or other utensil as the water is scalding hot!) Then fill the sink back up with cold water for another minute or so. Skins should slip off easily. Cut peaches in half and remove pit (slice, if desired.) Ascorbic acid can be used to keep fruit from darkening. Place peach slices in prepared jars. Ladle boiling syrup or apple juice over peaches. Process jars according to chart below.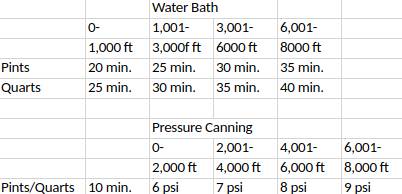 I hope that you have been able to add to your food storage this summer! I'd love to hear what you've been canning, freezing and drying.
Blessings,
Jennifer