I received a 6 month subscription to the Family Math Package of A+ Interactive Math to use with Brock, Adisyn, Eli and Rebekah.  A+ is an online, interactive, multisensory homeschool math course that covers 1st grade through Algebra I.

The Family Package is available for families who have any number of students up to 10.  A+ also has an Adaptive Placement Test and Individualized Lesson Plan option that can be used to close learning gaps; some of the other members of
The Crew
reviewed this option.
In my family, the kids fit into one of two camps: those who love math and those who don't.  A+ has been a wonderful fit for those kids who until now have never been so fond of math.  When I asked their opinion, the "don't love math kids" said they really like A+ and want to continue using it.  HOORAY!!!  The "love math" kids of course enjoyed it also.
A+ uses all three learning styles (audio, visual and kinesthetic) to teach math which significantly helps those kids who have had a hard time understanding math in the past.  The student also has the opportunity to go back through a lesson if they don't "get it" the first time.  As a parent, you have the ability to change the grade level your kids are working on at anytime.  The Scope 'n Sequence of each grade level for A+ Interactive Math can be found here.
In addition to the online component, there are also worksheets that you can download and print for your students.  I found these helpful since we only have two computers that the kids have to share.  By printing off the worksheets ahead of time, I could have two of the kids working on the worksheets while they other two were working online.  If you don't want to have to print off the worksheets you can buy workbooks for each grade level which contain all the worksheets, exams and answer keys.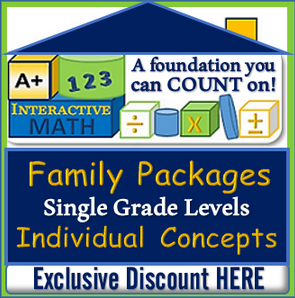 The kids and I found A+ math easy to navigate.  The Quick Start-Up Guide goes through step-by-step instructions to help you get started efficiently.  The biggest problem I had with the kids is getting them to hit the "Finalize" button so that I could see their progress.  The program is set up so that when they complete the review quizzes they are not graded since the kids are just learning the material.  It took a bit to get the kids used to clicking the "Finalize" button so that it would record their scores. However, it is possible to manually record their scores so that they get credit even if they have completed a printed off worksheet or forgot to hit finalize.
We have really enjoyed A+ Interactive Math.  I liked the fact that I can have kids learning math while I am helping someone else with another subject.  A+ has been a good fit for our family.  If you would like to see if A+ would be a good fit for your family you can sign up for a one month Free Trial, no credit card needed.  They also offer a Free Math Placement Test.
You can also connect with A+ Interactive Math on social media:
Facebook: https://www.facebook.com/APlusTutorSoft
Twitter: https://twitter.com/aplustutorsoft
Pinterest: http://www.pinterest.com/aplustutorsoft

Blessings,
Jennifer
*I would really appreciate it if you would take the time to sign up to receive an email for each post so you don't miss anything. You can find the "Subscribe to Blog via Email" button at the top of the blog and enter your email.  Thank you!